January is train your dog month over at Something Wagging This Way Comes, Pamela has turned this into a blog hop so we can share tricks and tips on how we're training our dogs.
In one of my recent comments I told Pamela I was training my dogs to do nothing, an idea I got from Kirsten at Peaceful Dog. 🙂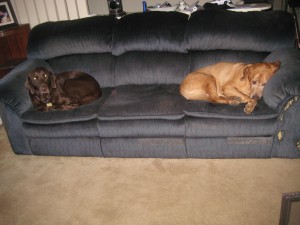 We're making great progress.
All kidding aside, how do you find the time to train your dog(s)?  Sometimes I feel like I barely have time to sleep, never mind train my dogs. (I need a timeturner, I really do.)
Yes, it's true I do try to keep Delilah in a class at least one day a week, and trust me it's as much for me as it is for her, but what about training at home?
Many times it doesn't seem like I even have five minutes to set aside for training, which is why we work on our foundation skills.  As Kristine says, "Foundation training.  It never gets old."
Yup, even though we aren't learning anything new, we're reinforcing what we already know.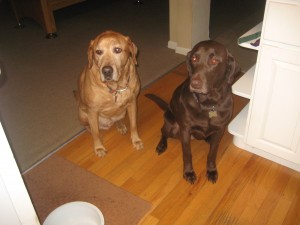 Sits are perfect to work on while we wait for dinner.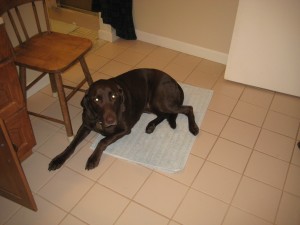 Delilah who struggles with her Downs, practices them in the bathroom in the mornings.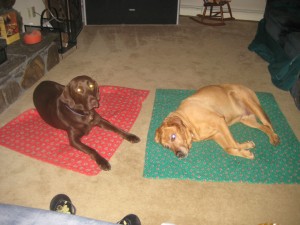 Down stays are also practiced during our evening meal.
Leave It's are reinforced when we drop something and Waits are practiced at exits and entrances.
While technically we're not learning anything new, we are working on and reinforcing the commands we already know.
For me, Sits, Waits and Leave It's are very important commands for your dog to know and know well.  Any one of them could save your dog's life in an emergency.
Since Delilah is not always 100% on her recall, if I can stop her from running off by having her sit, I win and maybe save her life in the process.
How do you find the time to train your dog?  What foundation commands do you feel are necessary?
(We are working on a training skill for this challenge, more on that later this month.)
Comments
comments