Up until this past spring, doggy daycare was part of our weekly routine. Then Delilah had a little fence fight, finances got tight and we stopped going.
Lately I've been sending them randomly, mostly when I know I won't have a chance to walk them.

Normally when I pick them up from daycare they are waiting at the gate for me, but yesterday I surprised them a wee bit early.  They were in crates, resting.  Jumping up and rushing out only when they saw me.
Little stinkers.
That was the first thing I noticed.  The second thing I noticed was the other dogs, lots and lots of dogs.
The next thing I noticed was Sara had a cat on the grooming table.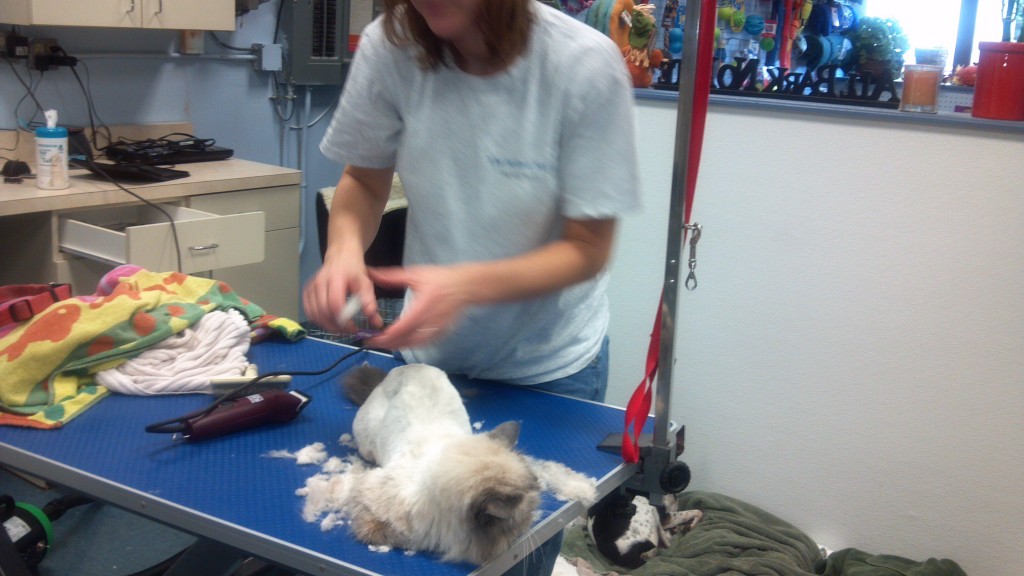 Wait a minute!  Really?  A Cat?
Yes, that is a cat on the grooming table.
A cat.  On the grooming table.  Calm and cool amidst a sea of calm and cool dogs.
A cat, unrestrained on the grooming table.  While dogs meandered here and there, and neither species bothered the other.
I know how my dogs react to cats and I was surprised at how cool that cat remained with all those dogs around.
But as they say, truth is stranger than fiction.
Have you ever seen an interaction between different species that make you shake your head in amazement?