Welcome to this week's edition of Follow-Up Friday, the post where I highlight reader's comments, answer questions and generally just wrap up my week.
First, I'd like to wish a very Happy Birthday to my sister Sheena, make it a good one girl!
You Make Me Smile – February 7, 2016
Emma said, "Maybe it works like it does at our house. The doorbell is my thing. I am the official ringer of the bell. Bailie knows how but very rarely rings it. It is like elevator buttons and mini humans, only one should be pushing or ringing."
You may be on to something there Emma. Maybe they've worked it out like you and Bailie have.

Jan K said, "Oh yes, this reminds me of the girls. They don't want to learn any tricks, but when Luke does one they come running to see if they can get a treat too (probably because I'll give them one). We call Cricket Luke's agent or manager…LOL."
I like that, Luke has an agent.

Yes, I give Sampson a treat too, whether he goes to the door or not. LOL
Misty Shores Chesapeakes said, "I'd say that's pretty typical male…let the female do all the work and sit back and reap the benefits. lol"
Right? Do you think it's instinctual?
Blueberry's Human asked, "Would you rather they BOTH ring the bell over and over again until you open the door?"
UM NO. Actually Delilah will ring it again on occasion. Which reminds me, I have the funniest video of her ringing that bell. I have to work on getting that one up.

Lauren Miller said, "Oh leash walking, the bane of my existence… Sometimes when they are really distracted I will just stand there and wait for them to give me some sort of attention."
I've done this and she is as stubborn as a mule, you could literally stand there for five minutes. Shit, the other day I stood in the street facing one way, my arm stretched out with her at the end of it facing the other way. I wonder what the car that drove by thought? LOL
Taryn said, "Most of the time my dogs walk sooooo slooowwwwlllyyyyy that I wish they would pull me. Mine are sniffers and unless they see the source of that smell dart out in front of them, they stand in one place taking it all in."
Oh yeah, sometimes Sampson stands at the bottom of the driveway sniffing for what seems like forever.  He's the one that stands and sniffs, Delilah is the one who puts her nose down and ferrets it out.
Emma said, "Bailie is our current puller, but she is getting better. Mom hates the turn around method, but it is effective, so she does use it sometimes even though it drives her crazy going nowhere! "
It does work with her for a little bit, and most of the time on the road she's great, it's when we are in the woods that she really gets excited though. I imagine it's all those exciting smells.
Julie said, "Cocoa is really good when we are running but when we are walking she is harder to control. "
Surprisingly Delilah does pretty good running too, she doesn't usually get going too fast, but I'm not a very fast runner and I can't do it for long. I considered getting a bike, but then I pictured my busted face and changed my mind. 😉
Blueberry's Human said, "First of all, I use a hands free leash system (it's just a carabiner attached to my jeans belt loop). "
Are you brave or crazy? 😉 Siriusly, you MAY have convinced me to try this. I say MAY.
Misty Shores Chesapeakes asked, "When you turn around do you turn into her?"
No because she's usually ahead of me and when I move forward, she does too.
DZ Dogs said, "Bring treats, and work on "look at me" while you walk."
I do have treats and I use "look" when there is something distracting, but she's a maniac with the treats and if I pull one out, she will stop or keep trying to walk in front of me.

Jan K said, "Sheba used to be my worst puller. But since I started bringing treats with me and training her to "heel" she's been so much better."
I've got to work on this more. Right now it's so damn cold that I don't want to take my hands out of my pockets.

Beth said, "I do lots of reinforcement with treats and some verbal commands–if there's an area she keeps pulling towards, I'll tell her to watch and give her treats as long as she's staying right beside me with her loose leash–and sometimes toss treats ahead of us and tell Barley to find it so that I can redirect her attention."
I need to work more on giving commands throughout the walk and not just when there's something distracting. I have thrown treats down in from of us before (I'd forgotten about that), thanks for the reminder!
Daschund Nola said, "I taught a formal heel (in the house and yard first, to get it well established), and then one walks I'd cue her to heel. Just for a few seconds, and then I'd release her to pull. Since pulling was more reinforcing than anything I could do, I figured it couldn't hurt to try that premack principle. It worked! I just slowly increased the heeling and slack leash duration, and now she only pulls when she's released to do so."
Okay so, like, I totally had to look up premack because I'd never heard of it. It's brilliant, totally brilliant. I think when it gets a bit warmer out, I've got some training to do. Thank you, thank you!
Maggie said, "These guys are the same. Together they walk like jerks. Alone they're pretty good. Except, with Cooper, when we see other dogs. My solution? A can of spray cheese! Gross but it works."
Ugh, that is gross. LOL but you have to use what works.
I Hope He Poops In The House – Barks and Bytes
Genevieve said, "NOBODY finds humor like you do! I'm pretty sure I'm right about this."
Is that good or bad? 😉
Emma said, "Katie is losing control of her back end muscles. She falls a lot, and she has a real tough time squatting to pee and poop. Sometimes, though, when she gets up in the house she can't control herself and a "log" will pop out on the floor. We don't care because as you say, it's easy clean up but we feel bad for her because we know she doesn't feel right about doing that."
Do you think she knows she's done it? My friend's dog is totally fecal incontinent right now and she doesn't know she's doing it.

Callie, Shadow and Ducky's Mom said, "Poor Sampson. Perhaps he was just too tired to try to go up the stairs. But I love the way you find humor in so many situations. And the more politically incorrect the better, IMO."
I think laughing beats crying, although I've done my fair share of crying over these two as well. 
Jan said, "Political correctness is ruining the country and causing miserable people and a total lack of humor. Thank you, Jodi, for being you and I hope you get lots of REM sleep."
Thanks Jan. Would you believe I said this very thing to a co-worker the other day and we got into a heated debate? 
Lauranne said, "Glad to see some things don't change! I wonder if Sampson has been talking to Poppy as her new favourite game is let's not poo in my litter tray overnight. You have no idea how much it freaks me out seeing that she hasn't poo'd. Why do they do this to us??"
I have no idea! Damn it you guys, stop freaking us out!
DZ Dogs said, "It's easier to laugh than to cry right? I think I just need to hang out with you sometime!?
I love hanging out with blogging friends! I can make you laugh. 😉
Jan K said, "I know exactly how you feel. I feel like every other blog post I write is about Sheba's cancer or our impending potential move. I'm afraid people might get tired of reading about both, but those two things are consuming my life and thoughts right now so how can I not be writing about them a lot? I know Sampson's injury is consuming your life as well; but I'm glad you can find some humor in it because that is all that keeps us sane, right?
I can't tell you how many times I've woken up in the night and felt Sheba panting. Is she in pain? Is she just hot?"
I'm not getting tired of reading about either one of those topics Jan, if that makes you feel any better.

But it's true that most people focus on the things that affect them the most and I think that's very normal. And I hear you about being worried in the night because the dog is panting. I mean these guys are so stoic, it's sometimes hard to tell!
Dachsund Nola said, ""Hell, I can pretty much find humor in most situations. It may not always be nice, or politically correct, but you can bet your ass I'm laughing about it."
I laughed out loud at that one! Girl, sometimes you're so much like me it's scary."
I read your comments and your blog and think the same thing.

Great minds..
Beth said, "Barley and Soth like to mess with my REM cycle, too. I'm glad Sampson was fine, and I've definitely curled up on the floor with my darlings in the middle of the night and had the same results."
Honestly, there's no place I'd rather be.  I know they are with us for such a short time, but I was grateful that I had Sunday to sleep in.

Alright, that's enough for me. I think this post is longer than a children's book. But that's mostly your fault, because you're all so awesome!
Have a wonderful weekend.
I really don't want every single post I write to be about Sampson and his struggles with a partial ACL tear or his adrenal glands. (I'm pretty sure you don't either!)
I'm going to do my best NOT to do that. But as most of you know, typically people talk about what they know and the situations that impact their lives. And when you have an ill or injured pet, that is definitely life impacting.
Even though you may have an ill or injured pet, there are still instances where you can find humor. Hell, I can pretty much find humor in most situations. It may not always be nice, or politically correct, but you can bet your ass I'm laughing about it.
Sometimes if I'm really non-PC, I'm only laughing on the inside, but I'm still laughing.
Sampson did a partial ACL tear on a Tuesday. On that miserable walk out of the park, my sweet, sweet boy managed to take a dump.
And THAT was the last one he took, for over 36 hours.
As we hit the 24 hour mark, I placed a call to the vet. The last thing I needed was for the damn dog to get impacted with poop on top of everything else he had going on.
The vet suggested some pumpkin as a natural way to get the process going and explained that sometimes when we have an injury, it takes our systems a little bit of time to 'reset' themselves.
Not to mention, (I thought), the dog isn't getting out and walking to help move things along.
Wednesday night as I snuggled with Sampson I said to Hubby, "I hope he poops in the house tomorrow."
It's okay really.  With the raw diet, the poop is very hard and is easy to pick up.  A shot of disinfectant on the floor and you'd never even know it happened. 😉 (Well YOU would, because I would tell you and then if you came to my house, you'd be like, "Where was it? Remember Patty, don't sit on HER floor.")
The vet had said to keep Sampson's potty breaks to five to seven minutes only two or three times per day.
Immediately after his injury we were confining him to our yard.
No wonder he wouldn't poop.
So Thursday morning I thought, well why can't his five to seven minutes be outside the yard? I leashed him up, set the timer on my phone for three minutes and very slowly and carefully we set out.
Well lo and behold, he pooped! I was so excited I shot Hubby a text. And his response made me LAUGH.  Check it out.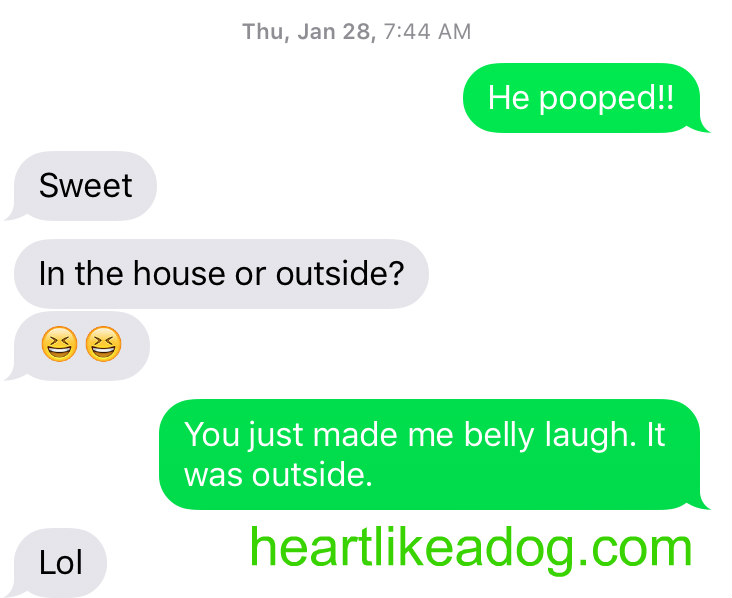 I told you we could find the humor in most situations.
Another thing that happened was both funny and sad.
Sampson hasn't been coming to bed with me a lot lately. I'm not sure if he hates us helping him up on the bed or what (maybe it's time to put the mattress back on the floor) but he's spent a lot of nights in the living room.
Saturday night was one of those nights. He was stretched out in front of the fireplace and I said good night and we went to bed.
Somewhere around 1:00 am Delilah barked and jumped off the bed. This isn't so unusual unto itself because she does do this randomly. I don't know why. Maybe she has a dream or maybe she just likes to fuck with my REM cycle, but if you've ever been startled awake, you know what I mean.
What WAS different this time was that she ran down the hall and into the living room, barking the whole way.
It wasn't a holy shit, there's somebody in the house bark, it was more like, run, run, woof, run, run, woof.
Once I was pretty sure there was no-one in the house, I followed her, only to find her standing in front of Sampson who was still lying right where I'd left him.
Once Hubby and I were on the scene, she left and went back to bed. In Hubby's spot. (She's evil that one.)
So there I was at 1:00 am wondering why the hell she woke me up and if something was terribly wrong with Sampson. Hubby rubbed his ear (Sampson's not his own, I mean what would the point of that be?) And Sampson smiled, but he didn't move.
Hubby went back to bed and I started to go myself and then I thought, what if something's really wrong?
I tried coaxing Sampson up, but he wouldn't move, so I grabbed a pillow and a blanket and laid down on the floor with my hand under his head. I knew he wasn't in distress or pain because he was very calm and he wasn't panting or exhibiting any other signs to indicate something was wrong.
It took me a while, but after about an hour or so I calmed down enough to start to fall asleep.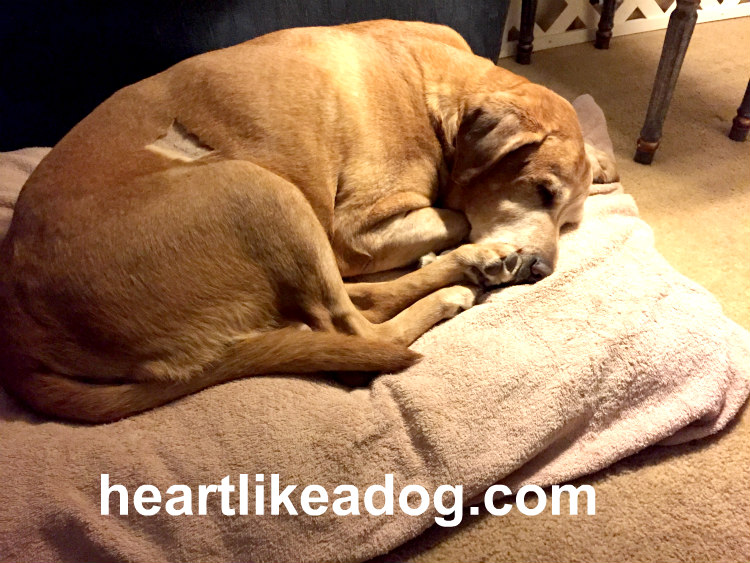 Then he got up and moved to a dog bed.
I guess Delilah's not the only one who likes to mess with my sleep cycle.
Do you find humor in hard situations? Are you like me, sometimes just laughing to yourself?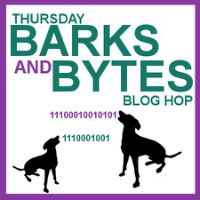 Welcome to Thursday's Barks and Bytes Blog hop hosted by 2 Brown Dawgs and Heart Like a Dog. We hope you will grab a badge from one of our websites and join us.