Welcome to this week's edition of Follow-Up Friday, the post where I highlight reader's comments, answer questions and generally just wrap up my week.
Day 13 of the #Advent4Dogs had a little problem.  Kol's Notes had no power and so the post wasn't up when my post went up. That should all be straightened out now, so if you had trouble entering day 13, please try again.  Thank you for your patience.
Thank you all for the wonderful birthday wishes for D-Dog (as Monika called her.)  I think she had a great day.  She got a new stuffie, had a couple of very nice (although one of them nearly stopped MY heart) walks, and of course got lots and lots of kisses and hugs.
Sue said, "Really lovely. My experience is less poetic. On leash walks all three of my dogs want to head straight to the barn and corrals… horse "apples," you know…"
Ewwww, I'm glad my dogs haven't developed that habit yet.

Kirsten said, "I am like you Jodi–the woods make me so happy. A hike away from everything always restores me–not to mention the dogs."
There's something so beautiful, peaceful and soul restoring about it for me.
Jan K said, "I love the woods year round, but there is something so special about them in the winter, especially right after a fresh snow. They are just so peaceful."
I agree.  The snow blankets the ground and muffles the sound of civilization.  There is something so very calming about it.
Kim T said, "Magical, mystical, magnetic – I'm drawn! That must be almost like meditating, walking through those woods. Sampson's one smart boy!"
It's truly a refuge for me.  It's where I come up with plot ideas, blog posts, etc.
Jen Gabbard says, "Oh I love the woods so much as well. I'm so lucky to have a huge forest backing up to our yard so Laika and I can go out on our wooded adventures everyday. Well when I say everyday we do skip out during hunting season because she sort of looks like a deer.. There is something so relaxing about them. It doesn't matter where – If I'm in a forest I'm content."
I agree.  I also love walking on the beach, but there is something about the woods that just does it for me.
DZ Dogs said, "We train all our friends and family before that are allowed to walk our pups. We work hard to keep the rules consistent and dogs always under control."
We're pretty much the same way here.  Although our back yard is fenced, so we are usually okay with people letting them out there.
Lauranne said, "On what planet would you do that?"
BWA HA HA I have no clue.
Jan K asked, "Do you ever get to have a nice relaxing walk?"
Very seldom.  If it's not challenges in my neighborhood, it's my dogs.  Sampson is a real idiot sometimes.
Blueberry's Human said, "I don't know how you do it. I would have stopped walking them a long time ago. I don't think my heart could take all that excitement. Or maybe I would just take to wearing Depends on the walk since there seem to be ample startling opportunities for the soiling of undergarments. "Depends – not just for the aged with incontinence issues, also for people that walk their dogs in neighborhoods like Jodi's – pick yourself up a box today!""
Oh. My. God.  "Oops, I crapped my pants where your dog on the e-fence charged me." 
Jan said, "My guests are not allowed to feed my dogs or let them out or even touch them. They are allowed to look at them. I am not what you would call a gracious hostess."
Jan you crack me up.
Pamela asked about electric fences, "Even if it keeps your dog from leaving the yard, how does it keep you dog safe from someone getting into the yard?"
It doesn't.  And that concerns me, especially in this neighborhood where there are fishers and coyotes.
Lauren Miller said, "I love walking the dogs in the forest in winter!! It's so quiet and awesome!!"
I agree.  Especially when there is a fresh blanket of snow.
Lauranne said, "I have to say I do enjoying walking in the woods in winter, although not at night. I hate walking alone in the dark at night!!"
I'm not big on THAT either.  I don't mind walking the dogs in the morning when dawn is coming, but hate doing it at night.  And I WON'T walk in the woods at dark!
Hawk aka BrownDog said, "My Human is going to be very sad to hear about the laurel and the fungus. Mountain laurel grow wild in our mountains."
It's upsetting to me too.  I love Mountain Laurel.
Emma asked, "What, busy on Christmas? Don't all bloggers stay home alone in a dark room with their computers and blog all day???"
Yeah, that's it Emma.

Blueberry's Human said, "I once drove up north to a forest to walk my foster dog and I have to tell you, I was really unnerved by the whole experience. You can't see more than 10 feet ahead of you with all those dang trees! And I went up there on a weekday, when it was super cold and snow was on the ground and we were the only ones out there…that is, until the shady looking guy on a motorcycle pulled in and was wandering around. I'm pretty sure he just stopped to use the little restroom facility, but you never know. "
Um, that would scare me too and yeah, I get scared in my woods too.  I've had a couple of freaky encounters myself.  I'm going to look those up and link to them.  You'll get a good chuckle out of it.
Jan asked, "So sad about the mountain laurel fungus. Is there some kind of spray that can control it? Would ordinary citizens get in trouble if they tried to control it?"
You know, one of our clients at work is an arborist and I'm pretty sure he talked to me about it, but I'm not sure about regular citizens applying something.  And it's a pretty big woods too, I'm not sure how the fungus spreads either.
Daisy said, "Woodland walks are my favorites, I could live in a cabin nestled in the woods for the rest of my life and be totally happy."
You and me both sister!
Welcome to Day 19 of the #Advent4Dogs Giveaway hosted by Kol's Notes, Dogthusiast, Heart Like a Dog, NEPA Pets & Wag'n'Woof Pets. Today's give away is sponsored by EarthRated. Enter now for your chance to win (what else?) POOP BAGS!!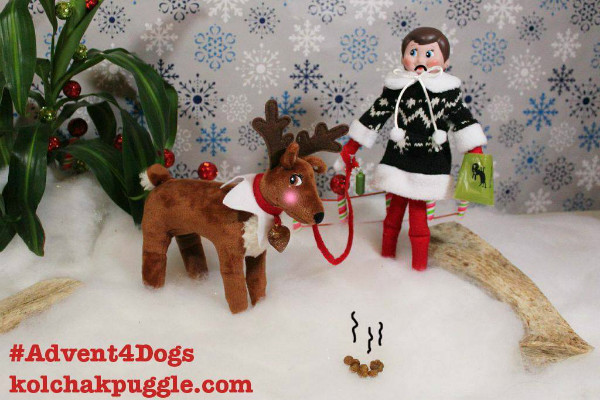 You don't have to be ashamed, squeamish or embarrassed to pick up that steamer with EarthRated poop bags.   They are a great size (9×11), scented (so your not smelling your dog's business all the way home) and the best thing is you can get them in bulk (for the homes with multi-poopers.)
Today's trivia question can be found at NEPA Pets. 
That's it for me folks.  Thanks for hanging in there with me.  Have a great weekend!