Today we're participating in Faithfully Yours, the blog tour. You may remember we shared the book trailer at the end of August. Well it's finally here and those of you who pre-ordered the book already know what I'm going to say. But before I get to the nitty gritty of it, I have to let you know that I was given a copy of this book in exchange for my honest opinion. That being said, Heart Like a Dog only shares content and products we feel are relevant to our readers.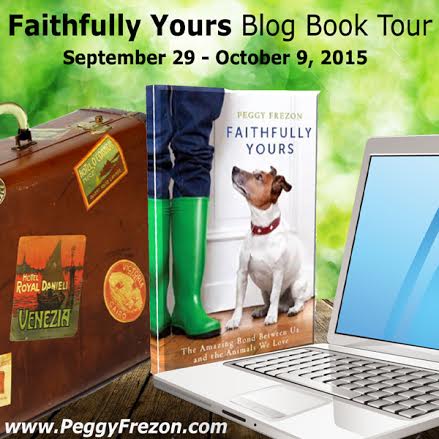 If you watched the trailer you know that Faithfully Yours is a book about the bond between humans and animals. I know the bond I have with my dogs, and I was excited to read other stories of humans and animals bonding.
This book was written by Peggy Frezon, author of Dieting with My Dog, The Dieting With My Dog Guide to Weight Loss and Maintenance and Heart to Heart Hand in Paw. Peggy writes at Guideposts Magazine and is a contributor to Chicken Soup for the Dog Lover's Soul.
Peggy has always been an animal lover and rescued her first dog when she was a very young child. (You'll read about Happy in the book.) She currently lives with her two rescue dogs, Kelly and Ike. (Oh and her husband Mike too!)
Faithfully Yours is broken down into chapters, with each chapter reflecting the theme of one particular trait. For instance in the section about rescue…you'll find stories about pets rescuing or being rescued.
You may have already heard some of these stories either on Facebook or the Internet, but Peggy did her research, contacting people and digging deep to really get the whole story.
One of the things I really loved about this book, was the way the stories were broken out and each story was complete on its own. You could probably say it is a collection of short stories.
I like to read when I go to bed, and reading at bedtime makes me tired. With Peggy's book I was able to complete the story before turning in and not worry about re-reading a page or two the next night, trying to figure out where I was in the story.
I don't want to give a lot away, but I will tell you if you like books that warm your heart, then you must read Faithfully Yours and right now I have a way for one lucky person to receive a free copy.
It's super easy.  You can enter to win a copy by commenting on this blog and letting me know you'd like to enter. You can also visit the rest of the blogs participating in the tour and leave comments on their blogs in order to increase your chances. At the end of the tour, Peggy will randomly select one person to win.
If you just want to get a second opinion or are interested in learning more about Faithfully Yours,  here are the rest of the stops on Peggy's Tour. (Some people were ambitious and interviewed Peggy, but I was lazy and waited too long didn't.)
Mon 9/28 – The Writer's Dog Blog Tour kickoff!
Tues 9/29 – Earl's World
Wed 9/30 – Cindy Lu's Muse
Thur 10/1 – Melissa's Mochas, Mysteries and Meows
Fri 10/2 – Pet Product Review
Sat 10/3 – Talent Hounds
Sun 10/4 – The Writer's Dog
Mon 10/5 – Pooch Smooches (That's me!)
Tues 10/6 – Heart Like a Dog
Wed 10/7 – Champion of my Heart
Thurs 10/8 – Joyful Paws and Talking Dogs
Fri 10/9 – Fire Safety Rocks and Five Sibes
That's 14 posts peeps, which gives you 14 chances to win. So what are you waiting for? Do you want to win a copy? Let me know in the comments!