Welcome to this week's edition of Follow-Up Friday, the post where I highlight reader's comments, answer questions and generally just wrap up my week.
You Make Me Laugh – November 22, 2015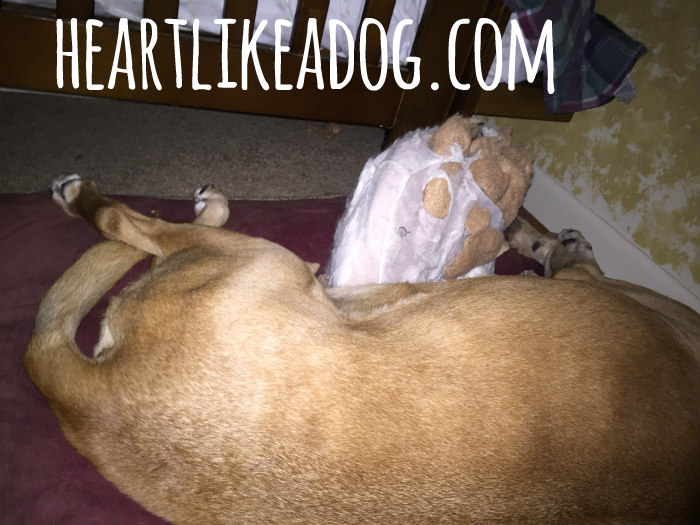 Emma said, "Katie and I don't do anything but sleep on our beds, but my little monster sister Bailie rips my beds to shreds. She ruined my very favorite bed the other morning, and Mom was even home at the time! She was in the kitchen working while Bailie shredded my bed. Our office was covered in stuffing. Not good. I guess if you pups do it to their own beds it isn't so bad. Maybe make a new cover for it?"
I think it's time for a new bed. I've fixed the cover once and now the stuffing is so destroyed, that taking the cover off leaves a wicked mess. Anyone have any good recommendations for Orthopedic dog beds?
Jan K said, "Cricket scratches at the beds all the time, but luckily no holes yet. I'm sure Sheba and Luke would have a field day if there were. Cricket is often seen lying around different toys in the beds though!"
That's so cute, I love photo of her curled up with her ball next to her.

My guys don't typically take toys to bed.
Jan said, "That is adorable. He must have his own concept of comfort."
He MUST because it doesn't look comfy to me. LOL Maybe it's the dog version of a body pillow?
Perhaps the best advice came from Lily & Edward (Two French Bulldogs) "You were suppose to hide the evidence."
Goodness, please don't give them ideas!
Treating Canine Arthritis with PEMF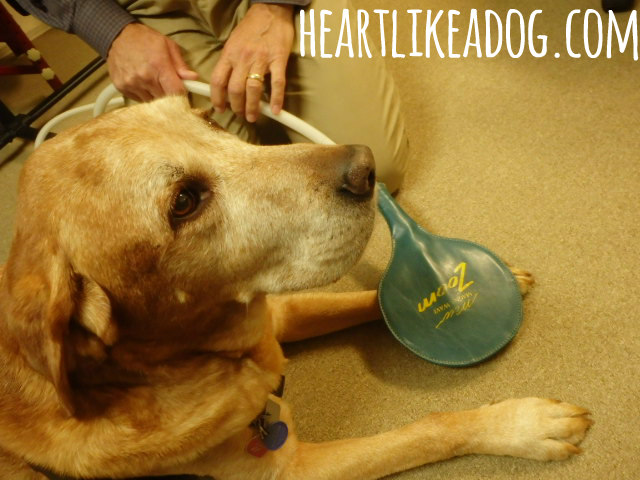 Before we get to the questions, Sampson had his second PEMF treatment on Tuesday. It lasted about 1/2 an hour, the next day Sampson was full of himself. He and Delilah rough housed in the morning after he ran around with his Kong, which was AFTER we took our 25 minute walk. It seems to be a good therapy for him and apparently he feels better.
Emma said, "The chiro has really helped Katie a lot. She is a bit sore for a day or two and tired too after the adjustment, but then she feels really good. Because of her condition, she gets an adjustment about once a month, but for the first two months or so it was every two weeks."
I put in a call to our holistic vet and he'll be coming down to give Sampson an adjustment and possibly some acupuncture, but the appointment isn't until Christmas Eve. One of the owners at my Vet's practice can do the acupuncture, in the meantime, and I can always ask my vet to recommend someone for chiro if he really needs it sooner.  They do have someone that does it at the place where he gets the PEMF, but for what they wanted to charge, I'd prefer the holistic vet to do it.
Sue said, "If Jeffie had had cal surgery, we'd planned to do this treatment. He did have chiropractic care and I highly recommend it!"
I appreciate that Sue, it really does seem to be helping. 
Julie said, "  I always gave Daisy massages to try and help her and do the same for Cocoa even though she is a pup still."
I give Sampson some massage too, especially when those back legs start trembling. Poor little love. I think it's beneficial to get those muscles stimulated and the blood flowing to those areas.
Jan K asked, "Why does it seem like when you find something promising, you always hear something bad about it? I'm glad you did further research and talked to your vet for reassurance."
I think it's the same with most things. There are always going to be people who have a negative experience with a product/company/treatment. In general I feel like when we get good service we rarely mention it, but when we get poor service or have a poor experience we tend to really let loose.
Happy Thanksgiving – Barks and Bytes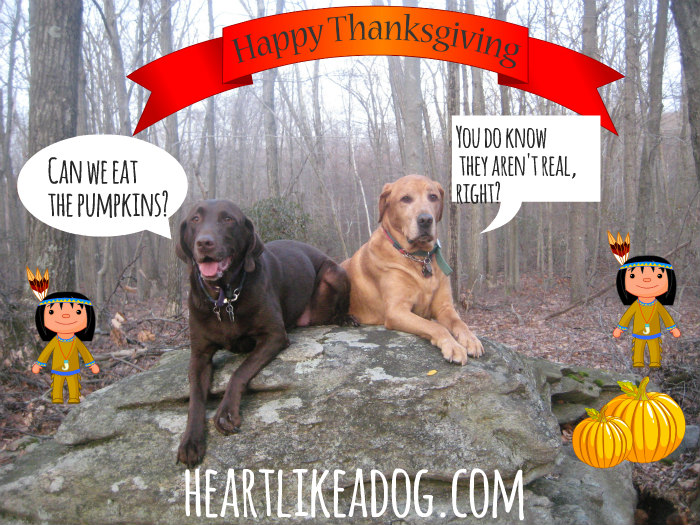 I'm glad so many of you liked the photo, it is hard for me to find a photo where both my dogs are looking at the camera. I found that photo from three years ago, originally I was trying to come up with something about Plymouth Rock, but came up with that one instead.
I'm sorry I haven't gotten around to a lot of blogs lately, I've been focusing on working on that book.

This weekend I'll be spending some time with my sister, so I'll try and get around to them next week.
Have a wonderful weekend!