Well my little 'Mayor' of the neighborhood has been at it again.
By far, his favorite stop on his route is the Whinnem's house. Here Karen gives him lots of loving and Ray gives him Beggin' Strips.
For quite a while, Liz and her husband, (Thibeault) lived with them, and we visited with them on most days. In September they moved into their own place, so we see them very infrequently.
Fall in CT has been weird. Typically, we have warm days, and cool nights, but the sultry heat of summer broke and cold days and colder nights moved in.
This means people stay inside and we rarely get a chance to visit with anyone on our walks.
A couple Saturdays ago, on our chilly Saturday afternoon walk, we turned the corner onto Karen's street and I saw that Liz's car was there.
Sampson always stops and stares, as if he can will people out the door.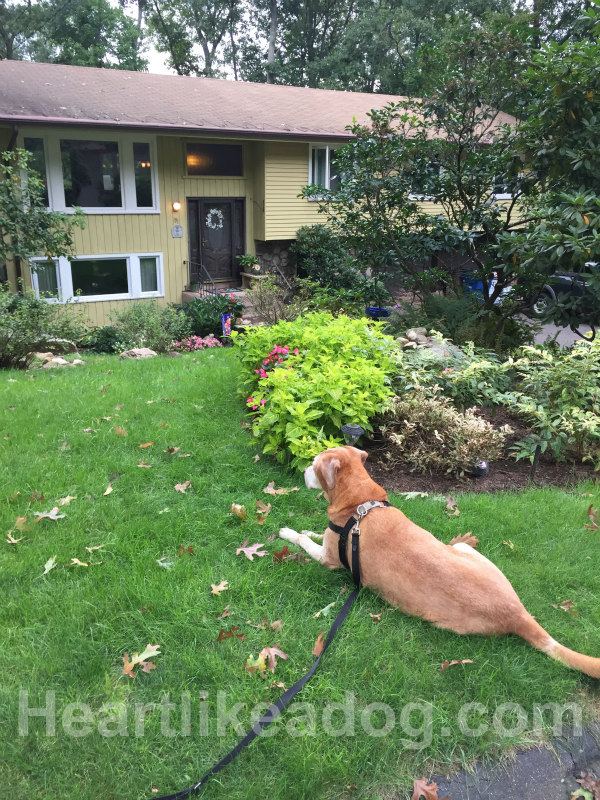 I can usually get him up and moving in a short time, but he will stop none-the-less.
On our return trip, he stopped in the front of the house and I was trying to coax him up. I happened to look at the front window, and saw four arms waving wildly at us. I waved in return and then I noticed they all stood up and were putting coats on!
Yes, those sweet, wonderful people stopped their visit to come outside and greet the 'Mayor' of the hood.
And yes, he got Beggin' Strips.
His joy at seeing the people he loves, always makes me smile.
You make me laugh, (or smile,) the sweet, funny, loving things dogs do that make us laugh or smile.
What did your pet do to make you laugh or smile this week?